Adjustable Safety Cage
Many industries require professionals to tie off at an anchor point when working at certain heights. This standard helps keep people safe, but it can be a difficult standard to maintain. The OSHA-compliant Little Giant® Adjustable Safety Cage™ eliminates the need to tie-off, making jobs faster, safer, and less expensive than many scaffolding options.
How it Works
Constructed from a non-conductive fiberglass-resin composite, the Adjustable Safety Cage is fully adjustable and easy to transport with its Tip & Glide™ Wheels. The setup is fast and simple enough to be performed by a single individual. Equipped with adjustable outriggers for stability, you are sure to feel secure and safe. The Adjustable Safety Cage is also equipped with Wheel Lift™ casters* to easily move the cage while fully deployed.
Specs
The Adjustable Safety Cage meets or exceeds all OSHA and ANSI standards and is rated IAA to hold 375 lbs.
*Available on most models.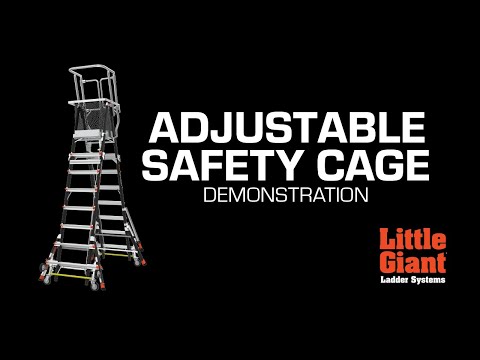 How to Use the Adjustable Safety Cage™
3 Easy Steps: Tip it up, pull the bottom section towards you, and lock into place.
Benefits:
Enclosed Adjustable Safety Cage™ eliminates tie-off requirement.
Compliant with industry rules for three points of contact.
Extension pulley system features make adjusting height easy.
Optional Ratchet™ Levelers adjust to work safely on uneven surfaces and stairs.
Tip & Glide™ wheels increase portability during transportation, and lock in place for secure climbing.
Light enough to work on weight-limited stages and upper floors.
Non-conductive fiberglass rails are ideal when working around electricity.
Wheel Lift™ casters* allow for safe, easy movement, even when Adjustable Safety Cage is fully deployed.
*Wheel Lift casters included on most Adjustable Safety Cages.
Preventing Injuries, Saving Lives.™
find your nearest little giant ladder dealer
If you're wanting to pick up the safest ladder available, check out your local dealer
FIND A LOCAL DEALER