Combo SXE
Every day, contractors and trade professionals face dozens of unique situations that require different types and sizes of ladders. In many cases, operators are forced to overreach or use the wrong kind of ladder to get the job done. Little Giant engineered the ComboSXE™ lightweight telescoping ladder to prevent injuries by giving pros a versatile, strong, yet lightweight climbing solution for dozens of applications. The ComboSXE is constructed of nonconductive, high-strength, lightweight resin fiberglass. The ComboSXE is a fully articulating and telescoping combination ladder—the only one of its kind. It works as both a two-sided, two-person stepladder and as a multiple-height wide-base extension ladder. The ComboSXE's wide-flared side offers superior side-tip stability while its straight side allows operators to access tight work spaces between wall or ceiling trusses and roof or attic access ports. The ComboSXE meets or exceeds all OSHA, ANSI and CSA standards for combination, extension, and A-frame stepladders.
13-foot model comes with V-Rung.
The Combo SXE Ladder is available in 12 and 13-foot sizes.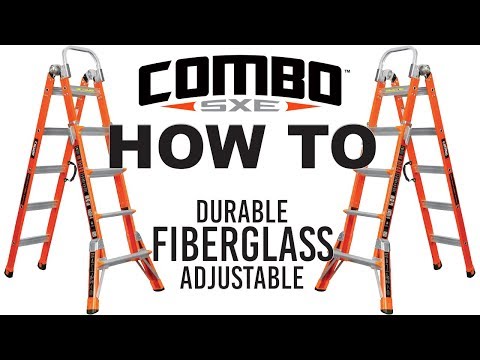 How to Use the ComboSXE™ Ladder
Benefits:
The ComboSXE's wide-flared side provides side-tip stability.

The straight side allows operators access to tight work spaces.

It is both a stepladder and a multiple-height extension ladder.

Patented
Preventing Injuries, Saving Lives.™
find your nearest little giant ladder dealer
If you're wanting to pick up the safest ladder available, check out your local dealer
FIND A LOCAL DEALER