Conquest
The vast majority of ladder accidents are caused by using the wrong type or size of ladder for the job and by overreaching. The Little Giant Conquest™ is designed specifically to help professionals who need to be mobile to avoid these common problems.
Its wide-flared base provides much more lateral stability than straight-sided step or extension ladders, preventing many accidents caused by overreaching, while its adjustable straight side allows you to easily and safely access attics and roofs. The Conquest is a lightweight fiberglass extension ladder is engineered with the latest non-conductive fiberglass technology—an exclusive, lightweight, strong composite that resists UV damage longer than ordinary ladders. You can use the Little Giant Conquest in dozens of unique configurations, including A-frame, extension, and 90-degree ladders. It literally replaces several sizes of stepladders and extension ladders; and unlike any other ladder, the Conquest allows you to work safely on stairs.
The Conquest's weight-balance carrying handle also makes it much easier to get where you need to go.
The Conquest is available in 17 and 22-foot sizes, IA (300 lbs) duty rating.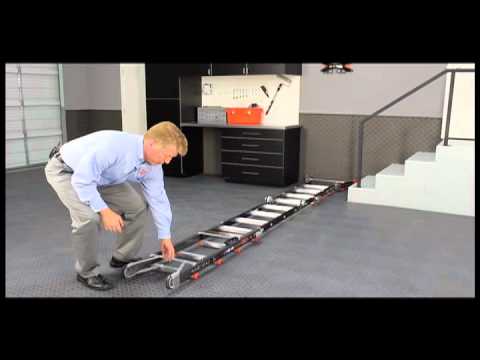 How to Use the Little Giant Conquest™ Ladder
Benefits:
Engineered specifically for insurance & real estate professionals, so that you can enjoy unmatched stability & safety with the wide-flared base while easily accessing narrow attics & roofs with the adjustable straight side
The Conquest™ also features a carrying handle to make transportation easier
Capable of dozens of configurations, including A-frame, extension, & 90-degree
The Little Giant Conquest™ exceeds all OSHA & ANSI standards
Rated to 300 lbs
Patented
Preventing Injuries, Saving Lives.™
find your nearest little giant ladder dealer
If you're wanting to pick up the safest ladder available, check out your local dealer
FIND A LOCAL DEALER