HyperLite
HyperLite™ Lightweight Extension Ladder
Ordinary extension ladders are heavy; and always have been. The leading cause of extension ladder injury is linked to the weight of the ladder—often resulting in torn rotator cuffs, herniated disks, ankle sprains and knee ligament tears from loading and unloading or carrying heavy traditional extension ladders. These injuries have simply been part of using extension ladders, until now.  Introducing a revolutionary new product in the lightweight ladder industry.
The Little Giant® HyperLite™ lightweight ladder is the lightest Type IA and IAA fiberglass extension ladder in the world, bar none. The patent-pending HyperLite lightweight ladder weighs up to 40 percent less than the leading competitor's standard fiberglass ladder without sacrificing strength and stability. The HyperLite's wide rungs provide great comfort, reducing foot fatigue and are very easy to replace. It also features Little Giant's unique side-mounted, dual-pulley system, which reduces the effort required to lift the fly section by 45% and removes a potential trip hazard caused by traditional center-pulley rope systems. The patent-pending Sure-Set™ foot allows you to set the feet in either flat or spike positions and have them stay in place.
Little Giant's patent-pending hi-viz green rail is one of the most easily detected color hues to the human eye. Why does a lightweight ladder need to be hi-viz? Some of the most catastrophic falls are caused by people who walk or drive into an extension ladder in use.
The HyperLite lightweight ladder is available in the following duty ratings and sizes:
Extra Heavy Duty Type IA – 300 lbs: 16', 20', 24', 28', 36′ and 40′.
Special Duty Type IAA – 375 lbs: 16', 20', 24', 28' and 32′.
* Based on tests performed in a controlled ANSI-compliant test lab.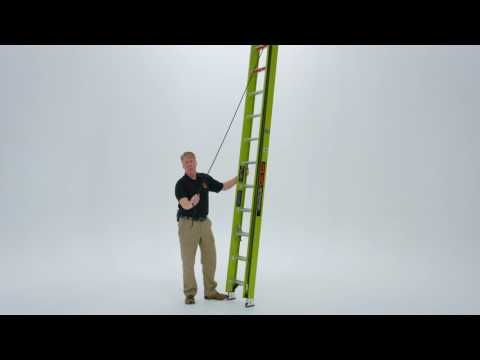 How to Video & Benefits of the HyperLite™ Extension Ladder
Benefits:
• Lightweight patent-pending design helps prevent common injuries like torn rotator cuffs, herniated disks, ankle and knee ligament tears from loading and unloading or carrying heavy traditional extension ladders
• Nonconductive fiberglass construction provides additional safety while working around electricity
• Patent-pending HyperLite weighs up to 40 percent less than ordinary fiberglass extension ladders without sacrificing strength or stability, depending on size
• Approximately 20 percent† more rigid than ordinary extension ladders
• Roof line indicator for quick, safe setup
• Convenient side-to-side and front-to-back angle level bubbles help ensure a safe setup every time
*On 1AA Ladders only
• Wide, flat, slip-resistant rungs provide great comfort and reduce foot fatigue
• Solid-riveted plate rung construction is stronger, more durable, and easier to replace
• Side-mounted, dual-pulley system reduces the effort required to raise the fly section by 45 percent and removes the trip hazard caused by traditional center-pulley rope systems
• Braided rope is larger, softer and more durable than ordinary ladder rope
• Interlocking side rails with internal rail guides on both the bottom of fly section and top of base section for easy glide during operation
• No protruding external guides in the way as you ascend and descend
• Spring-assisted heavy-duty extruded aluminum rung locks for smooth, secure operation
• Patent-pending Sure-Set™ foot stays in position when you set it to either flat nonslip rubber shoe or spike mode for soft surfaces
• Engineered nail notch in the shoe allows you to secure the ladder to prevent slide outs for added peace of mind
• Sure-Set foot is easy to replace using common tools
• Patent-pending Hi-Viz green rail prevents catastrophic accidents caused by people who walk or drive into an extension ladder while in use
• The patent-pending Ground Cue prevents injuries by signaling the user when it is safe to dismount the ladder
• Rail shield bracket and shoe protects fiberglass rails from damage and weather
• High-strength polymer molded leg brace for increased stability
• Co-molded nonslip rubber wall pads protect working surfaces and provide superior stability
• Weather-resistant UV-inhibiting compound in fiberglass resin for extended outdoor use
• Complies with all OSHA, ANSI A14 strength and testing standards. Rung/step spacing complies to OSHA and Int'l standards*
*OSHA 1910.23, OSHA 1926.10.53, CSA Z11, EN131-1, AS/NZS 1892.2.6.2
• 1-year limited warranty
• Also available in the following duty ratings and sizes: Extra Heavy Duty Type IA – 300 lbs: 16', 20', 24', 28', 32′, 36′ and 40′. Special Duty Type IAA – 375 lbs: 16', 20', 24', 28' and 32′
• The leading brand in ladder versatility, safety and innovation
† Based on tests performed in a controlled ANSI-compliant test lab
Preventing Injuries, Saving Lives.™
find your nearest little giant ladder dealer
If you're wanting to pick up the safest ladder available, check out your local dealer
FIND A LOCAL DEALER