Safety Cage
Many industries require professionals to tie off at an anchor point when working at certain heights. This standard helps keep people safe, but it can be a difficult standard to maintain. The OSHA-compliant Little Giant® Safety Cage® eliminates the need to tie-off, making jobs faster, safer and less expensive than many scaffolding or lift options.
Easy to Use, Store & Carry
Constructed from a non-conductive fiberglass-resin composite, the Safety Cage folds compactly, making it easy to store. The Safety Cage can be set up with just one person. It also has Tip & Glide™ Wheels, so it is easy to move from job to job. Because you can work hands-free, the Safety Cage is perfect for jobs like maintaining large HVAC equipment or installing stage lighting.
Ground Cue®
Descend the ladder with confidence knowing you will never miss the bottom rung again with the Ground Cue®. The Ground Cue alerts you with an audible "click" when you've reached the last rung on the ladder.
Specs
The Safety Cage meets or exceeds all OSHA and ANSI standards and is rated IAA to hold 375 lbs. It is available in 4, 6, 8 and 10-foot sizes (platform heights of 2, 4, 6 and 8 feet respectively).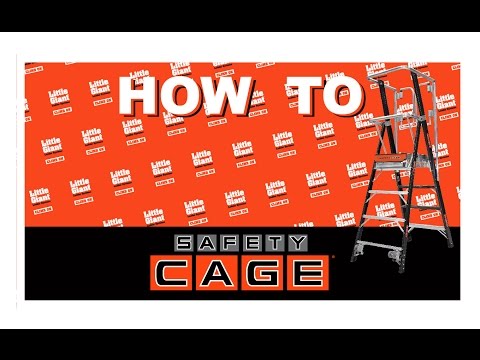 How to Use the Safety Cage™ Ladder
Benefits:
Enclosed Safety Cage® eliminates tie-off requirement.

Compliant with industry rules for three points of contact.

Ground Cue® bottom rung indicator lets you know when you've reached the bottom rung.

Tip & Glide™ wheels increase portability during transportation, and lock in place for secure climbing.

Light enough to work on weight-limited stages and upper floors.

Non-conductive fiberglass rails are ideal when working around electricity.
Preventing Injuries, Saving Lives.™
| | | 2' Model | 4' Model | 6' Model | 8' Model | 10' Model | |
| --- | --- | --- | --- | --- | --- | --- | --- |
| | Model Number | 19602 | 19604 | 19606 | 19608 | 19610 | |
| | Weight Capacity | 375 lbs. | 375 lbs. | 375 lbs. | 375 lbs. | 375 lbs. | |
| | ANSI Duty Rating | Type IAA | Type IAA | Type IAA | Type IAA | Type IAA | |
| | Comparable Size of Traditional Stepladder | 4' | 6' | 8' | 10' | 12' | |
| | Cage Min. Height | 5 ft. 6 in. | 7 ft. 6 in. | 9 ft. 6 in. | 11 ft. 6 in. | 13 ft. 6 in. | |