PRODUCT DESCRIPTION
The AirDeck™ easily connects to several Little Giant products, including the Select Step™. The AirDeck™ features a multi-use tray for tools and materials and a safety handrail for extra stability. With the AirDeck™, you can use the full recommended height of your ladder in comfort and safety. The AirDeck's™ utility tray includes slots for power tools, screwdrivers, and other tools; and fitted recesses for all sizes of paint containers (square gallon, round gallon, and round quart). The AirDeck's™ work tray is rated to hold up to 25 pounds of tools and materials.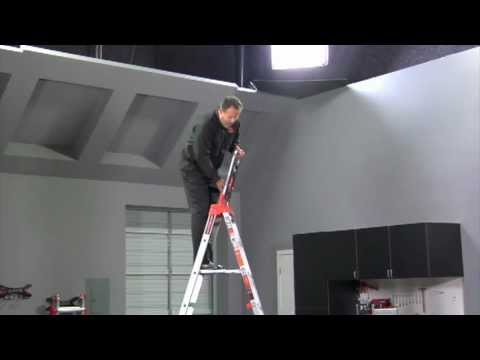 Specifications
| | |
| --- | --- |
| WEIGHT CAPACITY | 25 lbs. |
| DIMENSIONS | 24 in. x 17 in. x 2 in. |
| ACCESSORY WEIGHT | 4.5 lbs. |
| COUNTRY OF ORIGIN | China |
| LADDER COMPATIBILITY | Boost, MegaMax, Quantum, SelectStep, TitanX, Xtreme |
Reviews
by Bill
I have received a select step 10 ft and a air deck came with it. The problem with the deck is that their is no mounting brackets for storage.
by Clay
So Handy! Just like both of the ladders I own, one of the best investments I have made.
by Kenny Franklin in Stafford, Va.
I am a real estate agent and I have a home inspection company. I use my Xtreme every day. I helped paint the interior of our new church using the AirDeck. It made taping & painting high off the ground easier.
by Greg
I have the airdeck with my Little Giant Xtreme and this thing is great. It is so nice to have something to hold onto when you are high up on the ladder, and having a place to put your tools is handy. Mine came with two elastic loops with a ball end on them so you can put that onto tools like a paint scraper, hammer, or whatever, and then just drop the ball end into the notch, and the tool hangs safely from the air deck. Definitely a must have for your ladder system.....