PRODUCT DESCRIPTION
The Little Giant Cargo Hold™ lets you keep everything you need to get the job done with you where you really need it. No more climbing up and down the ladder to get a tool or a handful of nails. The Cargo Hold™ features two easy-access pouches for tools or materials, a hammer or tool sling, and several elastic tool slots. The Cargo Hold™ will work on any Little Giant multi-use or articulating ladder rung, and it folds and stores neatly inside any Little Giant multi-use ladder. The Cargo Hold™ stores conveniently between the top two rungs of your Little Giant Ladder System. And if you want to save time, make it a permanent part of your Little Giant Ladder System.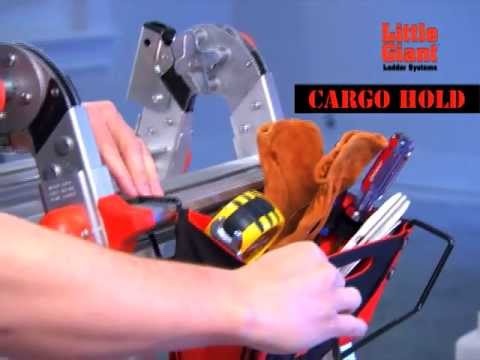 Specifications
| | |
| --- | --- |
| WEIGHT CAPACITY | 15 lbs. |
| DIMENSIONS | 12 in. x 7 in. x 5 in. |
| ACCESSORY WEIGHT | 2 lbs. |
| COUNTRY OF ORIGIN | China |
| LADDER COMPATIBILITY | Aircraft Support, Alta-One, Classic, Combo SXE, Conquest, Dark Horse, Fiberglass Multi-use, Leveler, MegaLite, MegaMax, Pro Series, Revolution, SkyScraper, Super Duty, Tactical, Titan, TitanX, Velocity, Xtreme |
Reviews
by Bryan M.
Not worth $40. Worth maybe $5 if they included free shipping. Also, good luck on getting any service after the sale. All most two months and still no response from customer service or anyone for that matter from this company.
by Project Guy
I bought this at a home show some time ago as it looked "pretty neat". Brought it home, it made it into the garage and I never gave it another thought. Several months ago i was working along an 11 foot high edge of my patio roof and juggling my usual assortment of tools and supplies when i remembered I even had the bag. I got it out of it's storage location and it's never made it off the ladder since. I use it ALL the time and wish I had remembered it long before i did.

If anyone reading this is on the fence as to whether to get it or not, just get it. You'll never look back!!!
by NA
It works well, but could be a little larger and deeper.
by Kristin from Miami
Not only are your products great but your order staff are as well. When I did not find what I was looking for on line I went ahead and ordered my second choice. Later on while browsing your VERY helpful videos I found what I had been looking for, called your order staff and they cancelled out my internet order and sold me the cargo hold which is what I really wanted. It was a great experience - as good as the products you sell!
by Bill
Cargo hold really help with holding tools you need at the top of the ladder. I had to work on my gutter it really help to hold the screw, driver, and hammer need to reattach the gutter. Save a lot of up and down to get the job done.
by GeorgeH
This everything holder designed to fit the Little Giant ladders has turned out to be a "why didn't I know about this before" device. Very convenient, light, and well thought out. Now, if it only held the paint can, too!
by AuxHowie
Everything that I expected. Nice addition to the product.
Does everything I need safely
by Kevin
Like the flexibility and small stowage footprint
by Rick
Use for holding cleaner and wax when polishing our RV. Works great
by WILD STAR GAZER
A great addition to a the best ladder ever made!