PRODUCT DESCRIPTION
Painting while atop a ladder can be frustrating. There usually isn't a place to put the bucket of paint, and most paint trays aren't designed to be used while standing at the top of a ladder. The Little Giant® Fuel Tank™ is a vertical paint tray designed to hold one gallon of paint. With its adjustable hooks, it easily attaches to most Little Giant Ladders.
How is it Different?
Unlike most paint trays, the Fuel Tank is designed to seamlessly attach to nearly any ladder rung. This accessory has a convenient carrying handle and a standalone base to prevent tipping when placed on the ground. The Fuel Tank also has a magnetic paint roller and brush holder to keep your tools out of your paint, and your paint off of your floor. Its special plastic polymer makes for easy cleanup. Just let the paint dry and it will peel off of the Fuel Tank.
What Can I Use the Fuel Tank For?
Ideal for painting, the Fuel Tank simplifies any painter's tasks. With its design, it is also a great option if you are cleaning windows. Fill the accessory with window cleaning solution and keep your tools close to hand to complete the job.
Features
– Vertical paint tray with adjustable hooks easily attach to most Little Giant® ladders.
– Magnetic brush holder keeps your paintbrush where you need it.
– Uses a special plastic polymer for easy cleanup. Just let the paint dry and it peels right off.
– Fuel Tank™ can hold window cleaning solutions or tools and materials for versatile ease of access.
– Holds one gallon of paint or window cleaning solution.
– 18.1" x 12.6" x 5.9"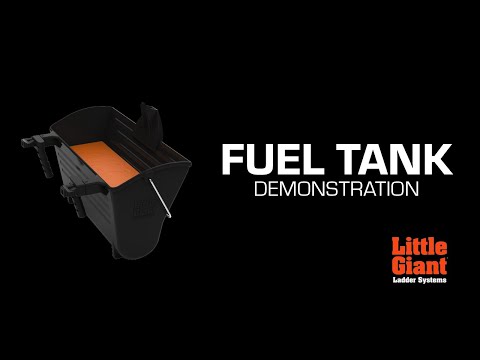 Specifications
| | |
| --- | --- |
| WEIGHT CAPACITY | 15 lbs./1 gallon |
| DIMENSIONS | 16 in. x 11 in. x 10 in. |
| ACCESSORY WEIGHT | 2.5 lbs. |
| COUNTRY OF ORIGIN | China |
| LADDER COMPATIBILITY | Aircraft Support, Alta-One, Classic, Combo SXE, Conquest, Dark Horse, Fiberglass Multi-use, Leveler, Little Giant LT, Pro Series Moldels, Revolution XE, Select Step, Select Step Fiberglass, SkyScraper, Super Duty, Tactical, Velocity, Xtreme |
Reviews
by Jess
I love this accessory!!! It is amazing.
by TB
Already used it to do some painting, love the idea of letting the leftover in the tank and letting it dry then peeling it out.
by Lory
Great product - made painting much easier. All painters should have one.
by Randy
Tank works great not as easy to clean as it shows. The paint does not peel as shown. It comes out in small pieces and you have to work at it. It was flat ceiling paint latex.
by Choreo
Just used this to paint all the trim around the outside of the house. Made the job a breeze. Very well designed.
by JIMBOW
THE FUEL TANK WORKS GOOD. WHEN YOUR AT 17 FT. YOU NEED TO FIX A STRETCH CORD TO THE HANDLE TO MAKE SURE IT WON'T TIP OVER. I DID FIND IT ALSO WORKS ON STEP LADDERS I HAVE.
by Ron
I'm still painting the exterior of my stucco home and the fuel tank has been a terrific
addition to my Little Giant ladder. I t is invaluable both on and off the ladder. I do agree with another comment that it isn't as easy to clean as demonstrated, but
the paint does peel off after setting overnight and is ready for the next day to use.
Easy to use Little Giant Fuel Tank.
by Robert
It is easy to use Little Giant Fuel tank which won't fell down from the ladder. It is safety and better than loosing a pail of paint.
excellent product (with one suggestion)
by MM
I have owned a Little Giant ladder since the early 1990s. This is a very well engineered accessory. It attaches well whether the ladder is in A-frame mode or extension ladder mode. I no longer need to juggle paint pot and paint brushes.

I do have one suggestion. When I do exterior painting, I rarely use only one brush. A 4" brush is fine for wide surfaces. But there is always the place where the fascia board painted one color meets the clapboard painted another, or the place where a painted corner board meets unpainted cedar shakes. I use a 1" sash brush for those places (too clumsy with the 4" brush). You need to put two magnets (not just one) on your tool holder to handle two brushes, for painters like me who are only semi-dextrous.
only way to paint a ceiling
by UV Phil
I am not a professional painter, but if I was, I would own two of these and a small little giant latter just to act as a paint tray holder.

If I was your company I would consider a floor stand for the Fuel Tank. A full gallon of paint, paint roller, and brush right there ready for any job would be a winner.

phil
by jd
I think the only improvement that could be made would be to sell thin plastic liners that could be lifted out and thrown away. Then it would be perfect!
by CB in Cali
I owned this for 5 years and up until 1 month ago used it just for holding debris from cleaning gutters. This fall, I had to do some painting. My opinion of the Fuel Tank shot way up - this may be the most value I have ever gotten for a product.

I have Little Giant ladders because I don't like heights - when I do have to go up a ladder, I want to be as safe as I can be. The Fuel Tank "amplifies" that safety. Everything I need is in the Tank, so it cuts down trips and makes the climb safer. Plus, everything is secure while I am working! It did take me a while to figure out how to secure the Tank with the ladder in extension mode, though.