PRODUCT DESCRIPTION
The Project Tray™ is a multi-use accessory designed for your multi-position ladder from Little Giant Ladder Systems®. The Project Tray™ rests securely on your ladder's rungs and acts as the perfect tool tray while you work. The grooves and slots hold almost any tool you will need, including hammers, drills, screwdrivers and power cords. It even has a place to hold your paint can. The magnetic tray holds screws and nails, so you won't have to worry about losing them. The Project Tray is rated to hold up to 25 lbs. and is compatible with your Little Giant® multi-position ladder.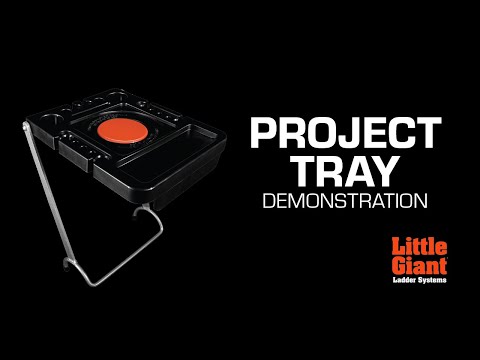 Specifications
| | |
| --- | --- |
| WEIGHT CAPACITY | 25 lbs. |
| DIMENSIONS | 18 in. x 12 in. x 5 in. |
| ACCESSORY WEIGHT | 4 lbs. |
| COUNTRY OF ORIGIN | China |
| LADDER COMPATIBILITY | Aircraft Support, Alta-One, Classic, Combo SXE, Conquest, Dark Horse, Fiberglass Multi-use, MegaLite, MegaMax, Pro Series, Revolution XE, SkyScraper, Super Duty, Tactical, Titan, TitanX, Velocity, Xtreme |
Reviews
Helpful addition to a terrific ladder!
by Linny
So far I have used my Little Giant Ladder for hanging bird feeders, trimming trees, cleaning window and door sills in my 9' ceiling home and for painting. The Project Tray has helped with ALL those chores by keeping tools and paint cans/trays readily available. Thank you, Little Giant, for making my projects so much easier!
by FlyFisher
The project tray saves me a lot of trips up and down the ladder, and it keeps the tools I need within reach. It makes the Little Giant experience complete!
A great help when painting.
by Ike
I would like to have the tray swing out to one side so you could use both sides of the ladder at one set.
I just finished painting my home and once again fell in love with 10 ft Little Giant-- I feel very stable and the project tray was a tremendous aid. Oh yes, I'm 81 yrs old.
by Eugene
It's a 5 star Project Tray,well made, Great tool.
by BC
Very handy, very easy to use
by Jim
The tray really works great. I love the magnet that hods screws in place and it is easy to take on and off and stores well when not is use.
TRAY FOR LITTLE GIANT LADDERS.
by NANCY
VERY HANDY AND USEFUL ACCESSORY FOR LITTLE GIANT LADDERS.
by Ron
you can only hang on to so many things while on a ladder, this tray is a necessary item, it could use a pop out hook or two
Great addition to the line.
by Elkriver73
I have been using the Model 22 for over 10 years now, it is the greatest ladder I have ever used. I am glad they made the ladder tray for it, when I ordered the paint tray I thought it was the air deck because I liked the additional stability of the extension to hang on to, when you get close to the top step, you are quite up there and I get very nervous. I am taking it that the air deck is not available for the classic 1A ladders. I also have the step which gives you the ability to feel more comfortable but after 10 feet I just want to have something to hang on to. Great Product, everyone is always asking to borrow my ladder.
by Walkingeagle
I don't know why I hadn't purchased one before. Makes a great ladder better.
Tray is a """"must have"""" accessory
by Bev
I had planned on only buying the wheel kit, saw the tray & decided to add to my order - glad I did. Tray is extremely useful, great addition to ladder.
by BJack
This convenient device saves many trips up and down the ladder keeping tools and parts close at hand. Its light weight and easy to attach. Have only used it once but look forward to using it more. Thanks for developing it.
by Tom Z
I was going to buy this or the cargo hold - I'm glad I bought the Project Tray - it's very easy to set up and put on the ladder without a lot of hassle, it's super sturdy and holds a full gallon of paint plus I didn't notice till I dropped a screw that it has a magnetic section so your screws don't roll off! Nice!
by ahab
The Little Giant ladder I bought was only missing this tray to top it off. Between this and the platform I have no problem doing my jobs at home.
Every Ladder should come with it
by horstpower
This is a great accessory .Easy to attach, easy to move and I can't work without it any more- supports all my tools including drills when working high up.
by BobR
I weigh in at 280 pounds. Most ladders feel wimpy - NOT THIS ONE!! Now I can pile all the ""stuff"" I need where I need it!
by Jake Shu
A wonderful and useful accessory by Little Giant Ladder. It makes climbing a ladder an fun adventure and not just a job to do.
by Mork
I have been using this for recent paint jobs and it works wonderful, I don't worry about the paint spilling, it has also been great for other jobs we are doing the nails etc stay put, love this item, I have had the ladder for a year now and would never use any thing but little giant I would highly recommend your products to everyone. Will never be without my little giant ladder,platform and project tray
Excellent Product...Highly recommend it !
by Vince
Should have purchased this product at the time I bought the Little Giant Ladder...it makes sense to do so !
by Sutton place interior design
Purchased project tray , it has made jobs much easier and safer by storing items and tools, not worrying about dropping and damaging customer furnishings and floors. Thanks little giant for another great product
by bingo
Excellent product, it does so much in one package, addition of wheels is great as the only drawback was the ladder's weight
by Roy
I am 75 years old. Going up and down ladders is not fun. This try saves my legs, time and me.