PRODUCT DESCRIPTION
Add a set of wheels to your Little Giant® multi-position ladder with the Tip & Glide™ Wheel Kit. These easy-to-install wheels allow you to move your ladder from job to job. Once the wheels are installed, simply tip your ladder and roll it to your destination. The Wheel Kit includes all the tools you need for installation and is compatible with all multi-position ladders that do not already have the Tip & Glide wheels.
The Kit Includes:
– Two wheels
– All necessary attachment hardware
– Drill bit
– Wrench
– Detailed instructions
– Labels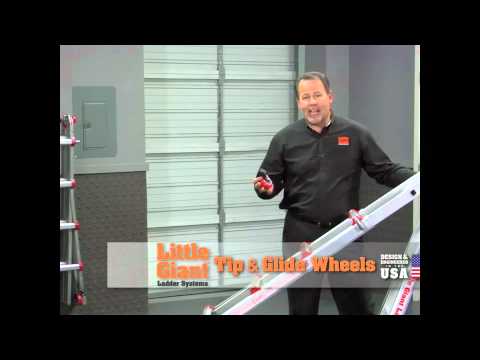 Specifications
| | |
| --- | --- |
| WEIGHT CAPACITY | N/A |
| DIMENSIONS | 4 in. x 4 in. x 4 in. |
| ACCESSORY WEIGHT | 1 lb. |
| COUNTRY OF ORIGIN | China |
| LADDER COMPATIBILITY | Alta-One, Classic, Revolution, Select Step, Tactical, Xtreme |
Reviews
by Dale
I have a Superduty IAA ladder that I tried to install Tip & Glide Wheels and found that they don't fit. The orange tail is too long and the cross soldering is too low.
by Dale
I have a Superduty IAA ladder that I tried to install Tip & Glide Wheels and found that they don't fit. The orange tail is too long and the cross soldering is too low.
by jnelms
Not bad. Installation not the easiest for a 73 year old, but I made it.
by Lee
The wheels are a great help since the only drawback of the ladder is its weight.
by gill Morrison
The wheels are a great add on to my ladder, it makes it so much better to move around. I have had my LittleGiant for over 10 years best ladder there there is , ever my neighbors love it!!!!
by dick
i would like it better if the wheels were larger so that the ladder would manuever through grass better.
huge convenience at a modest cost
by ed
makes transporting from garage a breeze. this is a must if you use the ladder solo. quick and easy to install, with clear instructions for safe use
by H
I have always loved my little giant ladder, but it has always been so difficult to maneuver. The wheel kit is the best!!! Easy to install and so easy to move the ladder around now!!!! Thank you Little Giant!!! Wish the wheel kit had been available 9 years ago when I bought my first Little Giant Ladder...
Awesome addition to an already great tool.
by WASHMGR
A co-worker rolled in the other day with his Little Giant on wheels and I ordered the wheel kit the same day. So much more easier to move around now with my ladder. Once again, thanks for your great product, one of the best investments in tools that I've made.
by Kirk
I recently bought a Select-Step that had the wheels already installed. Relocating the ladder was easy since there was less lifting. When I saw that I could order a wheel kit for my Model 17, I ordered it immediately. The wheels work great. My ladder was pre-drilled, but I used my own tools to install the wheels since the enclosed wrench leaves something to be desired.
by Z-man
The only criticism I ever had regarding my Little Giant was that it was rather heavy and somewhat of a struggle to carry. My new wheel kit has solved that problem. It is now a breeze to move the ladder from place to place. The wheels and mounts are made of sturdy commercial grade material and installation was very easy.

I find that I use the ladder more often now.
by Carol E
My husband was so excited when I gave that to him. He thinks his Little Giant ladder is something he cannot do without. I am buying additional accessories for this ladder and he loves them all. He tells me the wheels make it so much easier to maniuplate. Everything about this ladder is quality.
wheels just make it better
by jp
I've had my Little Giant for years but recently saw the wheel option. I ordered them for my ladder and they arrived promptly. The installation was easy, the drill bit and wrench were included. My ladder now wheels along nicely.
Jp
by J.D.
I recently purchased the Little Giant Wheel Kit for my 17 ft Type I ladder. Installation was a breeze per the instructions. My age and medical conditions have made carrying my ladder to various worksites around the yard a bit tenuous. This wheel kit has greatly reduced the strain on my body making it easier to move my ladder. Outstanding product!
by Wheels
The wheels make in so much easier to move the ladder from place to place.
Easy to move from place to place
by teddyb
the wheels make it so much more easy to relocate the ladder a lot less lifting which makes it so much easier on my back
by Steve
Heavy duty, works great
by Woody
I saw the wheels on the newer models. I went online and purchased some for my older model, they fit perfectly, went on easily and made transportation from one area to another sooooo much easier. The older I get the more help I need. They are fantastic.
by cutter
makes moving the ladder very easy. instructions were clear but supplied wrench not well suited for the job. used my own wrenches and everything went fine.
Ladder Tip & Glide Wheel Kit
by Willy
This is a great kit. It's a big help in moving around the ladder. I just wonder why I didn't know about this gadget when I first bought the ladder eighteen years ago or it wasn't available then. My one concern is that there is only one warning label supplied when in fact two (one for each leg) are mentioned in the instructions. Inspite of this, I tremendously like this kit.
Very easy to use for seniors
by Barry
When I first bought the ladder in 1996 I didn't think twice about lifting it. 15 years later it is nicer to be able to wheel it around. The conversion was very easy and the instructions were very clear.
by badger
I have the A-1 and sometimes it is a little heavy to move around, but thanks to the new wheel kit it is a pleasure to use.
Love the ladder and the wheels!
by MidAm
I have used ladders for 40 years in my insurance adjusting business. This is THE BEST ladder I have ever used. Compact features, the added wheels and multiple positions have proven to be time and life savers for myself and my staff members.
by usmc74
I never realized just how much easier the ladder is to use when you can roll it around instead of having to carry it........the retrofit kit was easy to install.......highly recommend this wheel kit.
by handyman
I have had my little giant for a number of years & have enjoyed ownership however it is heavy & bulky so adding wheels has made it so much easier to move around.
by d
The wheels allow the ladder to be moved easily, I love the stability of the ladder & will be purchasing one for a Christmas gift to my favorite Aunt.
by Dave
Easy to install, sort of, directions are clear and easy to understand. But it's really a no-brainer anyway.
Thanks,m Dave
by Aziz
This was a great decision to add wheels. It is much easier to move about alone, and they were simple to install.
by bill
At 77, the ladder was becoming heavy to carry. The wheels solved that problem. I've had the ladder for 7 years and it was used in a major house reconstruction and in our landscape work. Love it.
Like a FRESH remake of a classic
by sledgehammer
Impressive....I have been aware that the newer Little Giant ladders came with wheels to ease transportation and I had envied new ladder owners that benefitted from that feature. Once I knew about the Little Giant Tip & Glide kit...I purchased and quickly installed that unit (VERY EASY to do).and now have added new utility and ease of use to my older (and appreciated) Little Giant ladder. Thanks so much for offering this retrofit item!

Little Giant Tip & Glide Wheels
by Mikey D
Easy to install wheels. The only confusion was lining them up with the 1/4" line and then still having them remain flush with the edge of the ladder as shown in the picture. I ended up with a slight angle, but the outcome was still great! The wheels totally enhanced the usability of my Little Giant.
by fred
Just what I needed. I have an older model that is quite heavy. What a relief.
Wheels verus Carring the Ladder
by Little Red
About ten years ago when you first offered the wheels for $20.00, I said to myself I can carry the M26 ladder. Now at 77 year young, wheels are great. I don't do more, but it makes wheeling the ladder to the job site a lot easier.
Best thing for an old man
by Dick
As I am 79 it was a chore to have to carry the little giant everywhere. With the wheels it is a Breeze to move.
Great addition to the ladder
by W
This is a great addition to an older ladder that I purchased several years ago. It was predrilled for this kit and was a snap to install
by Dick
The wheels I added to my older Little Giant Ladder fit perfectly and were easy to install on my ladder. The wheels made the ladder a lot easier to move it around. I can now roll the ladder to where I need it rather than carry it.
by Joeofalltrades
Adding the wheel to our ladder was a great idea. It makes it easier to move it, my wife loves the fact that she can now handle the ladder alone.
by Joe
The wheels are exactly what the doctor ordered, I have the older ladder and it is to heavy to carry. The wheels make it much easier to handle.
by messitup
Our 21' Skyscraper is an excellent ladder. The wheels make it much easier for 1 man to move. Well worth the cost and simple to install.
by climber
I bought the wheels to add to my old version of a Little Giant. The wheels were very compatible and very easy to install. And MOST OF ALL made made ladder easier to move around!
by JR
The wheels make easy transport of my little giant. I just purchased your new little giant called SWITCH IT and love that one to... Keep up the great work
by JR
I bought 2 of your wheel kits, one for my Little Giant Ladder and the other for a Werner, their version which was given to me. The instructions were easy to read and follow, I had them both installed in less than an hour. Wherever I take the ladders everyone is amazed and love the ease of transport.
by Larry
Due to the weight of the Little Giant Ladder, the addition of a wheel kit made its use even better. The ladder is one of the best purchases one could make followed closely by the wheel kit. I am disabled with several back surgeries so lifting and carrying the ladder really limited its usefulness, but now with the wheel kit I can tilt and wheel the ladder to any location I need it.
by Rick
I have a type ll ladder and even though I was told the wheels wouldn't work on my ladder, I installed them anyway. They have made transporting the ladder so easy I wish I would have known about them before. I am getting much more use out of my ladder now. I almost always leave my light weight aluminum ladder in the shed and use the type ll little giant.
by Rowdy
The ladder was getting to be a chore moving it from location to location. The wheel kit solved the problem.
by StanB
Installation quick and easy my ladder was predrilled. Moving the ladder just got so much easier. Glad I made this investment and addition.
by Lee
I agree with a lot of your other customers. I love every aspect of the Little Giant Model 26 and my friends and family are amazed at what it does. This has fixed the only aspect I wasn't crazy about, the weight; but I was willing to put up with it because of the stability at very high heights. I'm glad I got the wheel kit, now I don't have any gripes.
by KeithW
I am 71 and use my little giant ladder at work all the time. I design and install fiber and copper for networking. I installed the tip and glide kit in minutes and it is sure nice to be able to bring my ladder to the location and not have to carry it, again at 71 I have carried enough ladders in my 30 plus years as an installer. Not having to carry 1 - 4' , 1- 6', 1-8' and the extension ladders in my trailblazer in nice. It is all in one ladder. Weight is not an issue now with the wheels.
Thank you again for a great ladder.
by Bay Appliance Bob
I didn't think my Little Giant could be any better, but I was wrong. The Tip & Glide Wheels made it even easier to use! The ladder can be moved with an easy tilt, no more dragging the ladder. This is a GREAT addition to an already GREAT product!
by Mike
The Tip and Glide wheel kit really works. It makes a world of difference when moving the ladder from place-to-place. Alas, the old bones ain't what they used to be. Agree with the "cutter" review; used my own tools for an easier install.
by Mike
Hopefully, it goes without saying, I like this product very much otherwise I would`t have bought another....... The first pair was for work and the second for home. The wheels make moving my ladder much easier. And most importantly, I still feel safe that the ladder will stay beneath me. GREAT product, strongly recommend.