PRODUCT DESCRIPTION
No one wants to go up and down a ladder all day. With the Trestle Brackets Classic Kit, you can easily convert your Little Giant Ladder® into two secure trestles to support plank scaffolding, saving you the hassle of trips up and down the ladder.
Using Your Trestle Brackets
Using the trestle brackets is easy. Remove the outer section of the ladder from the inner base. Fit the Trestle Brackets inside the top of the ladder with the flange facing out. Lock the ladder into place, and your ladder is ready to convert to scaffolding with the Telescoping Plank.
Trestle Brackets are compatible with the Aircraft Support™, Alta-One™, Classic™, Helium®, MegaLite™, Pro Series, Super Duty, and Tactical™.
Some Highlights
– Use Trestle Brackets and Little Giant® Plank to convert your ladder to a trestle-and-plank system.
– Snaps easily on and off for easy assembly and disassembly.
– Includes removable orange plastic inserts for variable sizes of Lock Tabs.
– Attached bungee loop allows for easy storage on a hook or ladder.
– Cast from strong aluminum, the brackets weigh 2 lbs.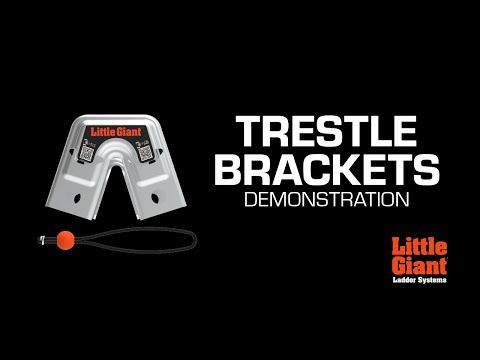 Specifications
| | |
| --- | --- |
| WEIGHT CAPACITY | N/A |
| DIMENSIONS | N/A |
| ACCESSORY WEIGHT | 2 lbs. |
| COUNTRY OF ORIGIN | China |
| LADDER COMPATIBILITY | Aircraft Support, Alta-One, Classic, Helium, MegaLite, MegaMax, Pro Series, Super Duty, Tactical, Titan, Type I, Velocity (Before 7/1/15) |
Reviews
No Reviews Found.