PRODUCT DESCRIPTION
Standing on a ladder for long periods of time can be exhausting. The Work Platform is a ladder accessory that doubles as a comfortable standing platform or tool holder. Enjoy the comfort of standing on a sturdy standing platform, rather than an uncomfortable ladder rung. When used as a tool tray, the Work Platform can hold buckets and tools for convenient access. Rated to hold up to 375 lbs., the Work Platform is a versatile accessory that is compatible with many of our other ladders, including, Aircraft Support™, Alta-One™, Classic™, Combo SXE™, Conquest™, Dark Horse™, Fiberglass Multi-Use™, Leveler™, Pro Series™, Quantum®, Revolution XE™, SkyScraper™, Super Duty™, Tactical™ and Xtreme™.
Features
– Work Platform doubles as a comfortable standing platform or tool holder.
– Standing platform increases comfort, eliminating sore feet and bruised shins while working.
– When used as a tool tray, enjoy placing buckets and tools on the ladder for ease of access.
– Rated to hold 375 lbs.
– Weighs 5 lbs. and its dimensions are 5" x 12" x 18".
NSN Number: 1730-01-092-1812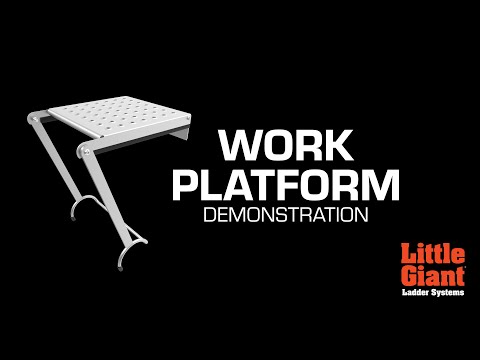 Specifications
| | |
| --- | --- |
| WEIGHT CAPACITY | Rated to hold 375 lbs. |
| DIMENSIONS | 5 in. x 12 in. x 18 in. |
| ACCESSORY WEIGHT | 5 lbs. |
| COUNTRY OF ORIGIN | China |
| LADDER COMPATIBILITY | Aircraft Support, Alta-One, Classic, Combo SXE, Conquest, Dark Horse, Fiberglass Multi-use, Leveler, Pro Series, Quantum, Revolution XE, SkyScraper, Super Duty, Tactical, Xtreme |
Reviews
A Must Have for Your Ladder
by Dave G
I have owned my Classic Little Giant 22 for about 20 years. I bought it at the LA County Fair in Pomona and bought two work platforms. One to stand on... and one as a work shelf. I have since added the Project Tray. The Work Platform is a must. Once you kick it out and stand firmly flat footed on the platform to work, you will never want to use any other ladder. Being able to turn around 360° is a huge plus. And feeling safe and stable... at my age now (65) is an added bonus.
by Pei
I find Little Giant Ladders quality is great, it's smooth surface makes people feels nice.
by Greg
The Little Giant ladder system is outstanding. It is sturdy and stable. With the addition of the work platform, it just makes it that much better. Being able to face your work and not have to stand on a rung is so much better. Great addition, I would recommend it for anyone.
by Gordon
I've been using my Little Giant Ladder for a couple of months and ordered the Work Platform when I started a residing project of my house. The Work Platform has helped a lot because of its stability!
by SJ in Texas
Afraid of heights, not so on the Little Giant. Love the work platforms and all of the accessories. Incredible product! The best thing about it is I don't worry about my husband now because it is very safe in all positions. I am 68 and hubby is 66. We will be sharing with all of our neighbors.
by Fuzzy
It does as advertised. All of the Little Giant products I have ordered work to perfection and I REALLY like my ladder system. I have to say that my wife likes the platform to not only stand on, but to rest her wash buckets on when doing the awning on our motor home. Thanks for a well designed and functioning product.
very satisfied i ordered the platform
by sony
It is a very good idea and feels same on the ladder

by Sam
My husband loves his new ladder. I purchased two platforms--in spite of my husband saying he only needs one. Now that he has two, he loves them! We can work together on the vines in the back yard, or he has a place to place tools while working. Thank you so much for your great products!
by Remote16
Use it several times. with a bad ankle. it made standing easier than standing on the rung . would recommand it to any one who needs to stand a long time.
by DavidH658
This is a good platform to work from, but if it was longer so you could put a paint tray on it would be a better tool to use.
by Ed
I have been using the Little Giant Ladder and work platform for years. Unfortunately, someone liked the work platform and decided they needed it more than I did. Luckily, I was able to get a replacement quickly, and got an early start on the Fall yard cleanup.

Thanks Little Giant.
by Sergio
Found this to be very useful. Sturdy, and well built, it's worth every dollar I spent, not to mention customer care.

by PR,
I already had 1 platform that I use, but I bought a 2nd one so that I can stand on
one and the other to put my paint can,tools,etc. on while I am working. I had injured my ankle a few weeks ago, so standing on the rungs of the ladder was virtually impossible, so by using the platform I am able to continue the remodel process that i have going on in my home with ease. I recommend it highly.
by Debbie
I love the platform. Instead of trying to balance myself on a ladder rung and ending up with tired feet, the platform gives me a solid comfortable base to stand on and turn around on while painting ceilings and high walls. I kind of expected the ladder to tip over when using the platform, but it doesn't! It's very sturdy and stable. I love my Little Giant ladder and am recommending it to everybody.
by Suzanne
I was lucky enough to purchase your Little Giant Ladder at our local Sears store during the Christmas Holiday. My Dad, who is 85 saw it on an TV and wanted to buy one for my husband. At check out I was stopped by several local Fire Fighters who gave my purchase a thumbs up! They told me they use the same brand of ladder at the fire station. My husband who had back surgery 3 years ago was very excited about his gift. He has since used it for several projects and rates it as one of the best products he has ever used. He is truly impressed. Because of this we also purchased the Giant Work Platform.
by Deanna
I find the work platforms to be very helpful with all big and small jobs. The platforms make standing on a ladder comfortable all day. It can feel as if I am standing on the ground instead of having that terriable feeling in your feet after standing on a regular ladder. Having a second work platform is also great because I have all the space I need to place my tools, paint trays, etc. to keep in reach and even a person can be there on the other side standing on the platform so I have the other pair of hands I need. I love it and every job that may come up in my home I know I have the ladder to do the job.
by Darrell
The ladder is the most stable ladder and platform I have ever used. over the past 25 years as a contractor I have not found any other ladder comparable. I rarely use the ladder doing electrical due to its construction but otherwise a great tool
by Steppin' up with Little Giant
Ever since I first borrowed my neighbor's Little Giant I was hooked. The work platform adds versatility and a stable work surface that is unavailable with other ladders.
by Bob
More aptly it's my knees that appreciate the platform. No more twisting in directions my body doesn't go anymore. I've used this to put tools, paint, and parts on, but I'd rather tie a bucket to the ladder and put me on the platform just so I can climb down and not be in pain.
by Blue Crow
Fantastic for what I needed, to stand on rungs for a few hours is a real back breaker, no problem with the "Work Platform". I did what I could not have done before.

by Underdog
Its been a great addition to my ladder. It allows me more versatility without worrying about falling. I'll have to purchase a 2nd so I can but my equipment near me on the other side of the ladder
by Old Man
As a senior citizen, I am unstable on a ladder. The platform will give me the stability I need. GREAT ACCESSORY.
Best Christmas Present Ever
by Tom
My wife got me the Little Giant early for Christmas so I could hang the lights. She saved the platform to be unwrapped on Christmas, but I wish she wouldn't have waited. The platform is a great tool that makes standing on the Little Giant even more comfortable and stable. I am looking for projects around the house just so I can use it.
by spikemaul
having a lot of fun with this great product. I have seen the rip offs and they don't measure up.This is the real deal. I have 2 now and will get a 3rd in the future.
by Buddy
We are in the middle of winter, so I haven't had a chance to use my new Little Giant Platform, however, it is built great! I love my Little Giant Ladder, and I have been just waiting to order the platform. This is going to make painting my 2 story house MUCH easier in the spring! Thanks DR!
by Bob
The work platform makes an incredible difference in terms of how tired you become as opposed to standing on the regular rungs of a ladder. With the platform you are much more stable, and much less fatigued.
Excellent Product - Highly reccomend
by Greg
This platform is such a simple design, yet provides a safe and comfortable method for working off of the little giant.
by Chip
This is the best step ladder / scaffolding / roof ladder I have owned. I am a home owner and it is great around the home. Light weight and easy to move around the house, in or out. Tall or short it WORKS!
Thank you for a great ladder.
Chip
by Ernie
Versatile and easy to set up. Should have gotten one years ago!
by Charlotte
I hate ladder work, but this is rock steady and a great addition. You will not be sorry if you buy one.
by marje
I purchased the Little Giant Ladder for each of my three grown sons for Christmas. They were thrilled with the versatility and light weight sturdiness of this ladder. We were all so pleased with your product, that I ordered the Little Giant Work Platforms for their birthdays. Can't wait to see their reactions!
by Wayne
It's so strong and sturdy, and simple to use, it really takes the pressure off the bottom of your feet, and makes you feel at ease while working on it.
by LetsTawk
The ladder is fabulous, and adding the plaform makes it even safer. When you stand on it, you don't feel the usual rung of the ladder on your feet. It makes working from the ladder much more stable and confident. Very useful addition.
by John
I should have ordered it a long time ago. Enough said.
by Doc
The Little Giant Work Platform helps prevent fatigue while standing on ladder.
by Don
Work platform is very comfortable. I like the way it folds in and out to get up and down the ladder.
by Old Man
Overall a good item. I got it for someone else, but it looks like it would work quite well for me. With the ladder's framework & shelf setup, it would give me a solid place to stand without much concern of losing my balance.
by Jack
I feel much more stable on the platform and for a 77 year old man that's a Godsend. It is very handy for tools, material etc.
great ladder, narrow rungs
by Dodge
This ladder came in handy, while painting and updating lighting fixtures in my house, I found it easy to postion and light weight, the platform tray, I bought 2 one to stand on and the other for my tools. My only dislike is that the narrow rungs after standing on them a while hurt my feet, that is why I had to buy 2 platforms. I would definitely still recommend this ladder, it worked great.
Very well built, worth every penny!
by Catherine, Decorative Painting Contractor
I love this ladder! With a little practice, I was able to adjust my ladder to any size quickly and easily. I especially appreciate the wheels, and it fits into the back of my short bed pickup. Any other extension ladder would have to go on my ladder rack. My favorite accessory is the work platform. Because I have to spend a lot of time on the rungs of a ladder, this can really help take the pressure off of my arches - and I can turn my whole body to face the wall! I discovered that the work platform also works on my regular 6 ft ladder as well. I hope to invest in the work plank next, as I can't wait to use it on stairs or as two separate ladders with the plank. Thanks for making a great product!
by Karl
It's everything you'd expect and they promise. fantastic product. Highly recommend the additional work platform add-ons. Not that expensive and they really make a great product even more useful and versatile. I bought one to stand on and one for my tools.
What a wonderful work tool.
by Jake Shu
I didn't think climbing a ladder could be so much fun. It is not very romantic but Little Giant has added a new twist to it. I look forward to washing the windows. It is a great product.
by satisfied user
The work platform is good for reducing fatigue. Enjoy using it in our painting business. Easy to use, too.
Worth it's weight in gold!
by Owen
You know how standing on a ladder's rungs hurt your feet in minutes? Never again! This makes a long painting easy on your feet. Plus, you'll need it at some point if you want to set up your Little Giant as a scaffold. Definitely worth the small investment!
Work Platform / Project Tray
by BMJdunbarton
We love the Work Platform, this is our second one, we bought or ladder,
the M22-1A several years ago with the work platform and Wing Span. the
Little Giant is an excellent system. We wanted another Work Platform and
Project Tray which we just purchased. The onlly down side to the Project
Tray is that it can only be used in the "A-Frame" position. We use the ladder
a lot in the 90 degree position working up close to our old Farmers Porch in
order to reach roof edge unfortunately the tray will not sit level at that angle,
so it's up & down I go for my tools, etc. great tray, but it's too bad it couldn't
be designed with some way to adjust the legs so it could be leveled off.

by jimintn
I have bad knees and do a lot of handy work around my house which needs a ladder. I have used the platform for two years, I had a small time handy man come by to do some high work that I could not do, after an hour on his ladder I got the platform and told him to try this......he loved it...so I went on line bought another one.( which I received in a very quick time), and told the young man I was going to tip him anyway so he could just keep the one he was using.
by Pilanicrafts
This was a great addition to my Little Giant Ladder. Will be buying a second one. In addition to being a platform, it can be used as a tool tray when not used as a platform. This is a must have accessory. Just reading about it doesn't seem like much, but when you actually use it you will be amazed at how great it is.
by Mike
Because I do a lot of ladder work and with my bad knees, the work platform takes much if not all of the pain away. It really is a pleasure to use and work off of it.
by Dennis
This just works. Was skeptical at first, but the platform is solid and makes the ladder more versatile. Need to get a second one. Buy one, you won't be sorry.
Feels solid and steady when you are standing with both feet on it.
by Jean Tessmer, Maui Hawaii
The ladders them selves feel very sturdy and secure to work on. The work platform is a plus since you can stand with both feet flat on the platform to work.
by Karen
It is easy to use without any help. Very sturdy and a great addition to the little giant ladder. Highly recommend this attachment if you need to paint or do other work for any length of time on the ladder. Used this attachment while staining the siding on my house.
by jim
The platform works great and sure helps your feet when standing and painting. Without the platform, it would have been difficult to paint the tray ceilings.
Best accessory ever. We'll worth the price.
by Steve
After having used the work platforms the past few weeks, I don't know how I got along without it. And I thought the ladder wheels retro kit was the best. They're both great additions. The platform was invaluable to stand on while getting 40 rolls of insulation up into the attic. I also used the platform to easily remove my outside summer window shades for winter storage. And with 2 platforms and the little giant in the scaffold mode, my wife was able to help out and do the job in half the time. And I just finished using the platform while insulating the interior of my garage. Never felt more secure or safe on a ladder. The only limit for uses will be my imagination. Thanks Little Giant!!!
by Bob
Wouldn't have the ladder without it! Let's you stand as if you're on level ground, takes all the strain off of you knees & back.