Alta-One
With the light-weight, versatile Little Giant Alta-One™ articulating ladder, you can count on quality performance for years to come. The hinge locks and telescoping sides let you safely use the Alta-One as an adjustable extension ladder, A-frame ladder, staircase ladder, and as trestle-and-plank scaffolding system. Wide-flared legs, rubberized feet, and high-quality construction give you unmatched stability in any of its dozens unique configurations. Because it is constructed of aerospace-grade aluminum, the Alta-One is ultra-light and ultra-strong. The Alta-One is rated to hold up to 250 lbs. on both sides, so it's perfect for medium-sized jobs.
The Alta-One Ladder is available in 13, 17, and 22-foot sizes.
** As of January 1, 2018, the Alta-One product line has been discontinued in favor of new, lighter and stronger technology. All warranties are still in effect. If you have any questions, please contact our Customer Experience Team at 800-453-1192.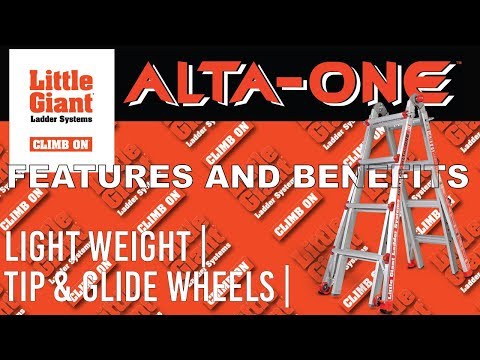 How to Use the Alta-One™ Ladder
To open: push buttons at the top which allows you to open the ladder
To telescope: pull the pins on one side & tip it away from you
Benefits:
Built in tipping gliding wheels, just tip it & roll it anywhere with ease
Easily adjusts to multiple heights; adapts to almost any job
Allows up to 2 people to use the ladder at the same time
Aerospace-grade aluminum — ultra-light & ultra-strong
Additional accessories available: Work Platform
Patented
Preventing Injuries, Saving Lives.™
| | | Model 13 | Model 17 | Model 22 | |
| --- | --- | --- | --- | --- | --- |
| | Model Number | 14010-001 | 14013-001 | 14016-001 | |
| | Weight Capacity | 250 lbs. | 250 lbs. | 250 lbs. | |
| | ANSI Duty Rating | Type I | Type I | Type I | |
| | A-Frame Min. Height | 3 ft. | 4 ft. | 5 ft. | |
| | A-Frame Max. Height | 5 ft. | 7 ft. | 9 ft. | |
find your nearest little giant ladder dealer
If you're wanting to pick up the safest ladder available, check out your local dealer
FIND A LOCAL DEALER