Alta-One
With the light-weight, versatile Little Giant Alta-One articulating ladder, you can count on quality performance for years to come. The hinge locks and telescoping sides let you safely use the Alta-One as an adjustable extension ladder, A-frame ladder, staircase ladder, and as trestle-and-plank scaffolding system. Wide-flared legs, rubberized feet, and high-quality construction give you unmatched stability in any of its dozens unique configurations. Because it is constructed of aerospace-grade aluminum, the Alta-One is ultra-light and ultra-strong. The Alta-One is rated to hold up to 250 lbs. on both sides, so it's perfect for medium-sized jobs.
The Alta-One Ladder is available in 13, 17, and 22-foot sizes.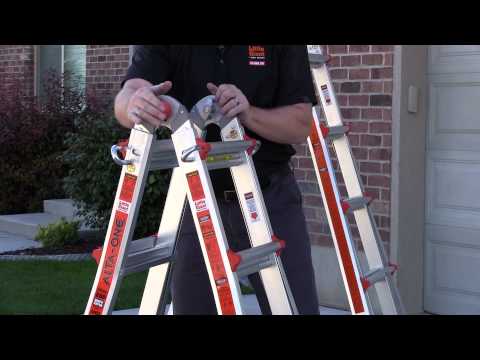 How to Use the Alta-One Ladder
To open: push buttons at the top which allows you to open the ladder
To telescope: pull the pins on one side & tip it away from you
Benefits:
Built in tipping gliding wheels, just tip it & roll it anywhere with ease
Easily adjusts to multiple heights; adapts to almost any job
Allows up to 2 people to use the ladder at the same time
Aerospace-grade aluminum — ultra-light & ultra-strong
Additional accessories available: Work Platform
Preventing Injuries, Saving Lives.
| | | Model 13 | Model 17 | Model 22 | |
| --- | --- | --- | --- | --- | --- |
| | Model Number | 14010-001 | 14013-001 | 14016-001 | |
| | Weight Capacity | 250 lbs. | 250 lbs. | 250 lbs. | |
| | ANSI Duty Rating | Type I | Type I | Type I | |
| | A-Frame Min Height | 3 ft. | 4 ft. | 5 ft. | |
| | A-Frame Max Height | 5 ft. | 7 ft. | 9 ft. | |
find your nearest little giant ladder dealer
If you're wanting to pick up the safest ladder available, check out your local dealer
FIND A LOCAL DEALER