King Kombo
It's frustrating when you don't have the right ladder. The job takes longer. You have to go back and forth to find the right ladder. Sometimes you even put yourself in danger to get stuff done. All because you don't have the right tool.
The Little Giant King Kombo Industrial 3-in-1 all-access ladder—the world's first stepladder, extension ladder, and leaning ladder—gives you exactly the ladder you need to do just about anything.
King Kombo Professional
King Kombo Pro will literally help you complete most every ladder task on any job site or any project. You can set King Kombo from storage to stepladder to extension in seconds. For tasks like painting, running wire, or accessing a hard-to-reach corner, you can simply use King Kombo as a safe leaning ladder. Thanks to its rotating wall pad for the leaning position, the King Kombo conforms to and protects inside and outside corners and damageable surfaces like aluminum siding, drywall, and stucco. King Kombo's speed will blow your mind. You have never worked this fast and safe on a task!
King Kombo Industrial
King Kombo Industrial brings all the power and speed of the Pro, with ultra-heavy-duty feet with seriously aggressive tread for elite traction and durability for harsh industrial environments. King Kombo Industrial also brings a tough corner, pole, and stud gripping V-bar for the extension ladder position. This heavy-duty grip conforms to inside and outside corners and even offers protection for damageable leaning surfaces like paint, drywall, and stucco and round poles. Speed, power, and safety—prepare to be faster and safer than ever on the job!
King Kombo Technical
King Kombo Technical is the bad A—the pinnacle of the King Kombo family. King Kombo Technical offers the speed, strength, and versatility of its brothers with the addition of the most aggressive ladder foot Little Giant makes: the Sure-Set™ combination spike (for soft ground) and tread foot. The Sure-Set foot is the only ladder foot that locks securely when you want it to stay in place and swivels when you need it driven in the earth. Utility, cable and telecom service professionals, you asked for it, we've delivered the King Kombo Technical. This King Kombo is lighter, faster, stronger, and safer than the pile you've had willed upon you for umpteen years.
Best of all, the King Kombo is cost-competitive with a comparable ordinary stepladder, even though it offers so much more. The King Kombo's wide steps provide stability and comfort, and its dual-purpose top cap offers both a spacious standing platform and a convenient tool tray. Its wide-flared side offers superior side-tip stability while its straight side allows you to access tight workspaces between wall studs or ceiling trusses and roof or attic access ports.
The King Kombo meets or exceeds all OSHA and ANSI standards for the Type IAA 375 lbs special duty rating for combination, extension and A-frame stepladders.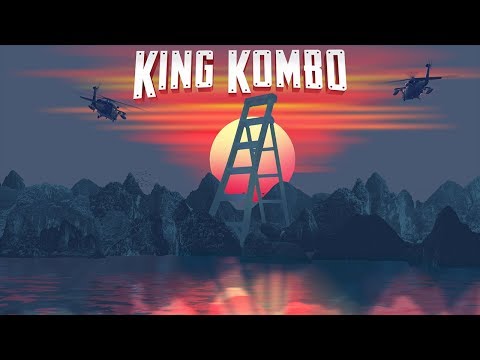 The world's first and only 3-in-1 extension ladder, leaning ladder and stepladder combination

Replace heavy traditional extension, step, and combination ladders with one lightweight, yet strong 3-in-1 ladder.

Non-conductive, high-strength, lightweight fiberglass is ideal for professional applications.

Patent-pending Hi-Viz green fiberglass rails makes the ladder more noticeable, preventing accidents caused by walking or driving into the ladder

Wide-flared side offers superior side-tip stability

The straight side allows operators to access tight work spaces between 16″ on-center stud gaps, ceiling trusses and attic access ports.

The rotating wall pad allows for safe use in the leaning position on inside or outside corners, flat walls, and a 2×4 stud

The soft material on the rotating wall pad prevents damage to aluminum siding, drywall and stucco

Palm buttons for easy adjustment

Wide-flared side offers side-tip stability

Co-molded nonslip wall pads protect working surfaces and provide superior stability

Wear-resistant, slip-resistant feet are easy to replace

Weather-resistant UV-inhibiting compound in fiberglass resin for extended outdoor use

The King Kombo meets or exceeds all OSHA and ANSI standards for combination, extension, and A-frame stepladders.

Ultra-heavy-duty feet with aggressive tread for elite traction and durability for harsh industrial environments (Industrial models only)

Tough corner, pole and stud gripping V-bar for the extension ladder position (Industrial and Technical models only)

Shock absorbing rail shield bracket and shoe protects fiberglass rails from damage and weather (Industrial and Technical models only)

Sure Set™ feet can be set in either the flat or spike (for soft ground) position when you need it driven to the earth (Technical models only)

Sure Set foot is the only ladder foot that locks securely when you want it to stay in place and swivels (Technical models only)

1-year limited warranty

ANSI-rated Type IAA 375 lbs rating

Also available in July 2019 in 8-foot versions with a 17' 1" max extension reach