Dark Horse
The vast majority of ladder accidents are caused by two things: using the wrong ladder for the job and overreaching. We designed the Little Giant Dark Horse to help you avoid these common problems. The Dark Horse is the only fiberglass multi-use ladder on the market. Its wide-flared base provides much more lateral stability than straight-sided step or extension ladders, preventing many accidents caused by overreaching. And because it is constructed with super-lightweight, super-strong fiberglass composite, the Dark Horse is a versatile tool for any jobsite. You can use the Little Giant Dark Horse dozens of unique configurations, including A-frame, extension, and 90-degree ladders. It literally replaces several sizes of stepladders and extension ladders; and unlike any other ladder, allows you to work safely on stairs.
The Dark Horse is available with Little Giant's exclusive Ratchet™ Levelers, which adjust hands-free in seconds. These integrated levelers are extremely quick and easy to operate. No tricky installs with brackets and butterfly bolts. Simply push the levelers with your toe until the ladder reaches a level, stable setup. The levelers add only 5 pounds to the ladder weight and offer nearly 6.5 inches of leveling adjustment.
The Dark Horse is also available with optional factory-installed walkthrough posts. The posts allow an operator to attach a walkthrough device to the top of the Dark Horse in the stepladder or A-frame configuration. Operators can use this unique configuration to traverse fences or climb over machinery or low-level pipes or conduits more safely than a traditional double-sided stepladder.
The Dark Horse Ladder is available in 13, 17 and 22-foot sizes.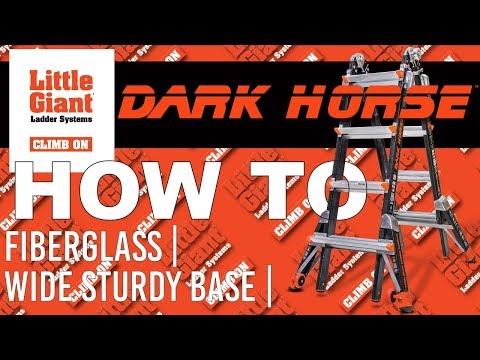 How to Use the Dark Horse™ Ladder
Benefits:
The lightest fiberglass multi-use ladder on the market
Nonconductive fiberglass provides additional safety while working around electricity
Use the Little Giant Dark Horse in dozens of unique configurations, including A-frame stepladder, extension, staircase and 90-degree ladders
Weather-resistant UV-inhibiting compound in fiberglass resin for extended outdoor use
Replaces several sizes of stepladders and extension ladders
Reach some of the toughest areas such as the space above the staircase or vaulted ceilings
Independent telescoping slides allow you to work safely on stairs
Extra-wide, cast aluminum hinge palm buttons for improved comfort and durability
Patented Triple-Locking™ hinge allows for easy adjustment and eliminates spreader bars, allowing you to use your ladder over and around obstacles, fences or bushes
Rated for two-person, two-sided use-300 lbs on each side
Cast aluminum Rock Lock™ adjusters provide ultimate durability
Extra wide rungs with aggressive tread provide added comfort and safety
Use included Trestle Brackets to form a time-saving trestle-and-plank scaffolding system
Stores in a slim 9″ storage profile at one-fourth its maximum size
Wide-flared legs provide a feeling of safety and security
Wide-flared base provides more lateral stability than straight-sided step or extension ladders
Tip & Glide™ Wheels for easy transportation
Nonslip co-molded feet snap on to provide traction on multiple surfaces
Co-molded feet are replaceable without tools
1-year limited warranty
Meets or exceeds all OSHA and ANSI standards
Available in ANSI IA 300-lbs rating or ANSI IAA 375-lb ratings (Model 13 only)
Available in 13, 17 and 22-foot models
Preventing Injuries, Saving Lives.™
find your nearest little giant ladder dealer
If you're wanting to pick up the safest ladder available, check out your local dealer
FIND A LOCAL DEALER