Revolution
The Little Giant Revolution is lighter than any comparable 300 lb-rated multiuse ladder. The Revolution has several new patented features: the Quad-Lock™ hinge and the easy-to-use Rock Locks™ for quick adjustment. The Revolution can be used in dozens of unique configurations, as an A-frame, extension, staircase and 90-degree ladder, and as a trestle-and-plank scaffolding system. The Revolution's wide-flared legs and aerospace-grade aluminum construction provide unmatched safety and stability.
The Revolution is also available with Little Giant's patent-pending Ratchet Levelers, which adjust hands-free in seconds. These integrated leg levelers allow the operator to adjust to uneven ground in mere seconds. And when the job is done, the levelers retract into storage position. The levelers add only 6 pounds to the ladder weight and offer nearly 8 ½ inches of leveling adjustment.
The Little Giant Revolution is rated Type IA to hold 300 lbs on both sides of the stepladder configuration.
The Revolution Ladder is available in 17, 22, and 26-foot sizes.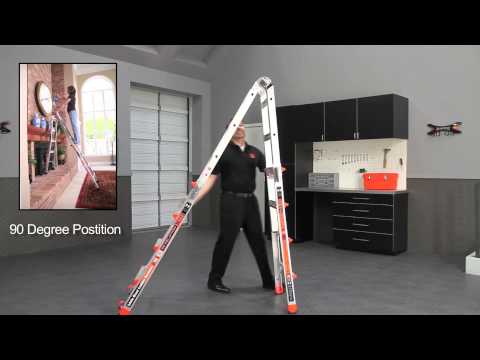 How to Use the Little Giant Revolution Ladder
Benefits:
Little Giant Ladder Systems limited lifetime warranty
Metal Rock Locks & Cast Palm Button
Enjoy an unmatched feeling of stability thanks to the Quad-Lock™ hinge, wide-flared legs & the highest quality construction
Use the Revolution as multiple sizes of A-frame, extension, 90-degree ladders, or as a scaffold system
Use the right ladder for the right job every time & avoid 95 percent of all ladder-related safety issues
Reaches some of the toughest areas such as the space above the staircase, vaulted ceilings
The Little Giant Revolution Model 22 exceeds all OSHA, ANSI & CSA standards
Rated to 300 lbs
Preventing Injuries, Saving Lives.
| | | Model 17 | Model 17 with Ratchet Levelers | Model 22 | Model 22 with Ratchet Levelers | Model 26 | Model 26 with Ratchet Levelers | |
| --- | --- | --- | --- | --- | --- | --- | --- | --- |
| | Model Number | 12017 | 12017-801 | 12022 | 12022-801 | 12026 | 12026-801 | |
| | Weight Capacity | 300 lbs. | 300 lbs. | 300 lbs. | 300 lbs. | 300 lbs. | 300 lbs. | |
| | ANSI Duty Rating | Type IA | Type IA | Type IA | Type IA | Type IA | Type IA | |
| | A-Frame Min Height | 4 ft. 1 in. | 4 ft. 1 in. | 5 ft. 1 in. | 5 ft. 1 in. | 6 ft. 1 in. | 6 ft. 1 in. | |
| | A-Frame Max Height | 7 ft. 1 in. | 7 ft. 1 in. | 9 ft. 1 in. | 9 ft. 1 in. | 11 ft. 1 in. | 11 ft. 1 in. | |
find your nearest little giant ladder dealer
If you're wanting to pick up the safest ladder available, check out your local dealer
FIND A LOCAL DEALER