Safety Step
The Little Giant Safety Step™ is a unique combination of strength and simplicity. The Safety Step is constructed with super-strong, lightweight aerospace-grade aluminum. Its wide, slip-resistant steps give you unmatched comfort and stability. The Safety Step operates so easily that you can open and close it with one hand. Its slim storage depth (5 ½ inches) will let you store it just about anywhere. It's also made for professional and industrial use. In fact, the Safety Step is rated to hold up to 300 lbs. on each step. This tough, compact step stool can handle just about any task, from the lightest house chore to the heaviest industrial job.
GSA Number: GS-07F-475AA
The Safety Step Ladder is available in 2, 3, and 4-step sizes.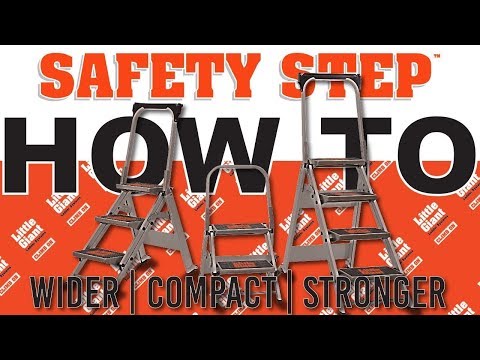 How to Use the Little Giant Safety Step™ Ladder
Benefits:
Little Giant Ladder Systems 1-Year limited warranty
Slip-resistant steps
Can be opened & closed with one hand
Ultra-light & ultra-strong aerospace-grade aluminum
Rated to 300 lbs
Preventing Injuries, Saving Lives.™
find your nearest little giant ladder dealer
If you're wanting to pick up the safest ladder available, check out your local dealer
FIND A LOCAL DEALER