Skyscraper
When you have to reach extreme heights, the Little Giant SkyScraper is the economical and safe replacement for expensive lifts and scaffolding. Now you can reach the highest spots in churches, auditoriums, gymnasiums and in specialized industrial settings. The SkyScraper is especially useful when working around obstacles like benches and stadium seating. And because it's portable, the SkyScraper can be used in places where a motorized lift or bulky scaffolding simply can't go. The SkyScraper can handle virtually any industrial job: it is made of heavy-wall, aerospace-grade aluminum and is rated to hold up to 300 lbs. The SkyScraper is fully adjustable, reaching as high as 21 feet while retracting to just over half that.
The Skyscraper Ladder is available in 15, 17, and 21-foot sizes.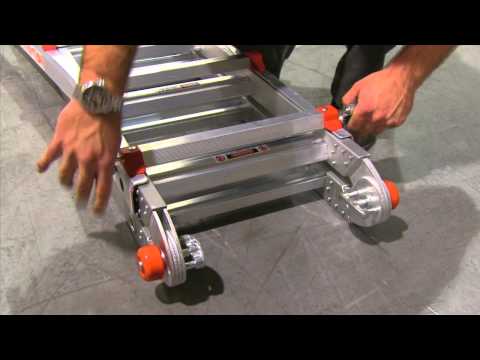 How to Use the Little Giant SkyScraper Ladder
Benefits:
Little Giant Ladder Systems 5-Year Limited Warranty
The Little Giant SkyScraper Model 22 exceeds all OSHA, ANSI & CSA standards
Rated up to 300 lbs
Ultra-light & ultra-strong aerospace-grade aluminum
Preventing Injuries, Saving Lives.
| | | Model 15 | Model 17 | Model 21 | |
| --- | --- | --- | --- | --- | --- |
| | Model Number | 10109 | 10110 | 10121 | |
| | Weight Capacity | 300 lbs | 300 lbs | 300 lbs | |
| | ANSI Duty Rating | Type IA | Type IA | Type IA | |
| | A-Frame Min Height | 8 ft. | 9 ft. | 11 ft. | |
| | A-Frame Max Height | 15 ft. | 17 ft. | 21 ft. | |
find your nearest little giant ladder dealer
If you're wanting to pick up the safest ladder available, check out your local dealer
FIND A LOCAL DEALER